New Cancer Center Coffers $110K Richer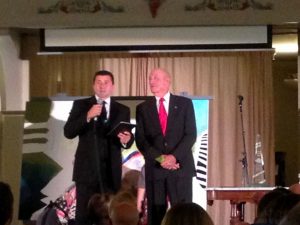 SRMC CEO Andrew Jahn presents the Irving J. Symons Award to Dick Pland

View Photos
Murphys, CA — About $110,000 was raised at Sonora Regional Medical Center's 14th annual Joie de Vie Gala last night at Ironstone Vineyards in Murphys.
SRMC Director of Marketing Gail Witzlsteiner says, "The hospital is in the middle of a capital campaign to raise $3 million to build a new cancer center and the money raised at the Joie de Vivre Gala will be used as part of the $3 million campaign."
As reported previously, the Cancer Center will cost around $36 million to complete.
During the gala, former Tuolumne County supervisor, planning commissioner and board of education member Dick Pland was presented by SRMC CEO Andrew Jahn with the Irving J. Symons Award for his long-term, outstanding community service to the region.
A performance art feature attraction that Witzlsteiner says was a "first" for the gala, will also provide the future Cancer Center with a nice piece of décor. She explains, "Our theme for this year's gala was 'The Colors Of Cancer Awareness', and we had a live artist onstage who was painting, a painting, that will hang in the new cancer center." The artists were Corey West Watson and her six-year-old son Joel.
Musical entertainment during the gala was provided by pianist Alan Copeland and stand-up bassist John Kikawaja.