Murphys Is Scene For West Coast Storytellers Retreat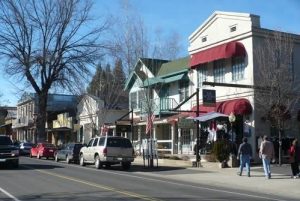 Downtown Murphys

View Photos
The Mother Lode Storytelling Guild welcomes the public to three performances this weekend as part of the Sierra Nevada Storytellers Retreat.
B.Z. Smith, President of the Mother Lode Storytelling Guild, was Thursday's KVML "Newsmaker of the Day".
Grammy-Nominated artist Milbre Burchierra will present stories in a public concert this Saturday evening beginning at 7pm, at the First Congregational Church of Murphys, 509 Algiers St. Concert tickets are $12, and doors open at 6:30pm. Story Winds evening storytelling concert.
The Saturday night concert is one of three public performances being held during "Sierra Story Winds: Sierra Nevada Storytellers' Retreat," which received the 2014 Pacific Spotlight Award from the National Storytelling Network.
"One goal of this retreat is to give our local area a healthy glimpse of the Art of Storytelling, and so we planned these great public events," said Smith, "Burch provides a rich opportunity for all of us to experience storytelling at its finest."
Burch is widely recognized as one of the strongest storytelling performers in the world, and has been inducted into the National Storytelling Network Oracle Award's "Circle of Excellence," which is an honor reserved for only the most influential storytellers. Burch has toured internationally, and is deeply respected for her work in the storytelling community.
"The first time I heard Milbre tell stories I was drawn in to her power," says Smith. "Since then I have felt personally nurtured and strengthened by her words every time I've seen her."
Joining Burch will be nationally-acclaimed storyteller Steven Henegar, who is well-known for his folksy, laid-back style of telling.
"Steven has an easy way with words, and manages to capture the most precious moments in a life," says Smith. "Everyone will enjoy his light-hearted approach, but he'll still take us deep into our hearts."
Henegar, who lives in Salem, Oregon, also serves on the Board of Directors of the National Storytelling Network (NSN) as the Liaison for the Pacific States' Region. During the weekend retreat Henegar and Smith, who serves as NSN Liaison for the Sierra Nevada, will host a round-up session, designed to connect storytellers from many walks of life.
"The Sierra Story Winds" Retreat takes place in Murphys this weekend with workshops and coaching sessions for regional storytellers.
"This is our first such gathering," said Smith, "Our workshop sessions are now all filled up. But we urge people to catch our three public performances to get a taste of what this 'storytelling thing' is all about."
In addition to the Milbre Burch concert, there are two other public performances. On Friday evening, October 17th, audiences can attend the first "Sierra Story Winds' Story Slam," a contest where participants tell original stories based on the principles of "Murphy's Law:" If things can fall apart, they most certainly will.
The free "Story Slam" begins at 7pm, in Murphys' Old Schoolhouse, 65 Jones St., Murphys.  It is presented by Gold Country Roasters and the Murphys' Business Association.
Then on Sunday afternoon from 1pm to 2:30pm children and parents can enjoy "The Mother Lode Tale-Tellers' Medley," a family storytelling concert, sponsored by Umpqua Bank. The event will be held at the First Congregational Church, 509 Algiers St., Murphys, and will feature folksinger/storyteller Bill Roberson, storytellers Cynthia Restivo, Colleen Dolan and Claudia Tonge. B.Z. Smith will serve as emcee and storyteller. Tickets are $5 for ages 3 and up. Tickets are available at Sustenance Books in Murphys, Mountain Bookshop in Sonora, and Charley's Books in Jamestown.
Throughout all three concert events, The Mother Lode Storytelling Guild will host an opportunity drawing with a list of high quality gift items available.
Proceeds from the concerts and the opportunity drawings will benefit the Mother Lode Storytelling Guild's future activities, the National Storytelling Network (a 501c3 nonprofit), and the First Congregational Church's Community Needs Fund.
For more information on the retreat and its concerts, contact B.Z. Smith at 209.532.7697 or visit www.sierranevadastorytelling.org/retreat.html.
"Just come," says Smith. "You'll be glad you did!"
The KVML "Newsmaker of the Day" is heard every weekday morning on AM 1450 KVML at 6:45, 7:45 and 8:45 AM.