Foresta Evacuation Lifted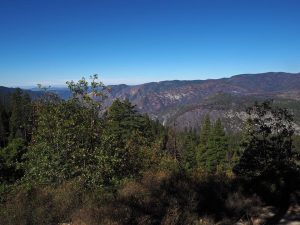 Dog Rock Fire picture taken 10-09-14 from the Wawona Road looking toward the fire area

View Photos
Foresta, CA – The Mariposa County Sheriff's Office evacuation order for the community of Foresta has been lifted.  60 homes were threatened by the Dog Rock Fire burning in western Yosemite
Ranger Kari Cobb says, "The community of Foresta has been let back into their residences and that occurred at one o'clock this afternoon.  However, Highway 140 still remains closed at Arch Rock Station entrance up to the Highway 41 and 120 junctions."
Cobb adds the Yosemite Valley is still without power, but the hope is the electricity will be back on late this afternoon.
The fire is now 250 acres and 10% contained.  A Type 1 Incident Management Team is now leading the response to the blaze.  The transition to a Type 1 team allows for higher priority to available firefighting resources.
A National Park Service honor guard returned the remains of Air tanker Pilot Geoffrey "Craig" Hunt to the Cal Fire honor guard this morning. The 62-year-old pilot from  San Jose was killed Tuesday afternoon after his S-2T air tanker crashed while fighting the flames. The National Transportation Safety Board (NTSB) is in command of the crash investigation.