Brown Signs "Audrie's Law"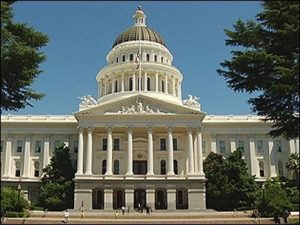 California Statehouse

View Photos
Sacramento, CA — California has passed tougher laws against juveniles that commit sex crimes against victims that are passed out and incapable of giving consent, or against people with disabilities.
Governor Jerry Brown put his signature on the bill known as "Audrie's Law" yesterday. We reported about this legislation in August. It was named after Saratoga teen Audrie Pott who was sexually assaulted while she was unconscious. She later committed suicide, eight days later. These types of juvenile cases will become open to the public, rather than have everything carried out behind closed doors. Teens that commit these types of crimes will also be required to pay for, and complete a sexual offender treatment program.
The Governor stated the new law will both shine a light on these juvenile cases, and ensure that the offenders receive needed treatment.
As reported in the earlier August story, getting information about a recent sexual assault case involving Sonora High School students has been difficult, as court hearings are behind closed doors, due to the suspects being juveniles.