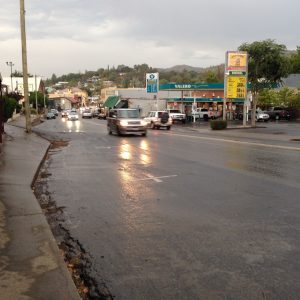 Rain in Sonora

View Photos
Sonora, CA – As the raindrops fall in the Mother Lode the CHP cautions motorists to slow down.
There has already been a collision on Shaws Flat Road and Highway 49 outside of Columbia involving a car and a pick-up. The CHP reports the slick roads may have been a factor in that collision. Luckily, there are no injuries, but CHP Spokesperson Rebecca Myers is cautioning motorists, "The rain is going to bring the oils up from the roadway and it's going to be slick out there. Slow down your speed, put your headlights on, and give a good distance between you and the car in front of you."
Myers suggests instead of the two second distance rule extend it to four seconds just to be safe. Also on curvy roads, where there may be puddles that could cause your vehicle to hydroplane, Myers reminds drivers to steer into the direction of the skid.