Oak Valley Community Bank On Agenda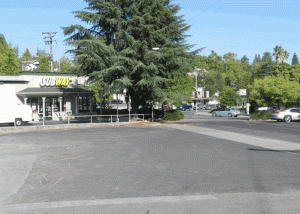 Oak Valley Community Bank Proposed Site

View Photos
Sonora, CA — The Sonora Planning Commission will hear about plans by Oak Valley Community Bank to open a new branch in Sonora.
The bank is based in Oakdale, and has an existing branch location on Mono Way. It also has several branches in Modesto, Stockton, Turlock, Patterson, Escalon, Ripon and Manteca.
The company is proposing to build a 4,000 square ft. building at the former Wright's Tire site at 85 Mono Way. City of Sonora Community Development Director Rachelle Kellogg says the Planning Commission will vote next week on the site plan and design review. If approved, the bank could move forward with acquiring a building permit and start construction.
Oak Valley Community Bank President Chris Courtney notes that pending regulatory approval is still needed to open the new branch. If everything falls into place, they would ideally like to open in late March of next year. "We really like Sonora, and feel that it is big enough for two locations," he says. Monday's Planning Commission meeting starts at 5:30pm at City Hall.