Expect Low Snow In The Mother Lode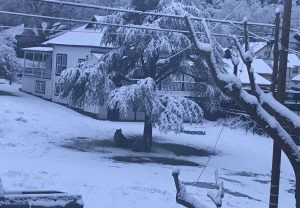 Morning snow in downtown Sonora (Archived Photo)

View Photo
Moderate to heavy mountain snow continues this afternoon with lower snow showers continuing into this evening.
The Winter Storm Warning that is currently in effect for the Mother Lode and the Sierra Nevada, will continue until 10 PM tonight.
The snow levels generally range between 1,500 to 2,500 feet. The snow levels will lower this afternoon into the evening down to 1,000 feet.
Additional snow accumulations will range from two inches to fourteen inches above the 1,000 foot elevation. The higher you go, the more the snow.
Major travel delays and difficult to impossible travel conditions continues today. Travelers should prepare for winter driving conditions by packing chains, an extra flashlight, warm winter clothes, and extra food and water. Slow down and use caution while traveling.
Gusty winds as high as fifty mph in the Sierra Nevada, will further reduce visibilities during this event with local whiteout conditions possible. Strong winds and heavy snow are causing tree damage.
A Winter Storm Warning means there will be snow covered roads and limited visibilities. Travel is not recommended while the Warning is in effect.