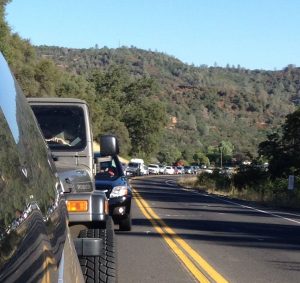 Traffic

View Photos
Sonora, CA — A record number of Californians will be traveling this Labor Day weekend and the CHP will be out in force.
The Labor Day Maximum Enforcement Period begins tonight at 6 p.m. and runs through Midnight on Monday, September 2.  The CHP reports this Labor Day coincides with the ongoing national drunk driving enforcement crackdown, "Drive Sober or Get Pulled Over."  Last year 49 people were killed in California crashes on the Labor Day weekend, which is a 40 percent increase from the same period in 2012.  In addition, more than 1,200 arrests were for DUI. Tuolumne County CHP Unit Spokesperson Nick Norton says that luckily the county did not follow the state's trend.
"In 2012 we had five DUI arrests and in 2013 we had four, so we are actually going the other direction. That's a positive and we hope to see it keep going that way this year," said Norton.
The CHP asks for your help in reporting drunk drivers by calling 911. They suggest you get a description of the vehicle, the license plate number, location, and direction of travel.
In addition, Triple-A reports the highest number of Californians since the recession is expected to travel over this holiday weekend. It estimates that nearly four million travelers will hit the roadways statewide.