Brown Praises Film Tax Credits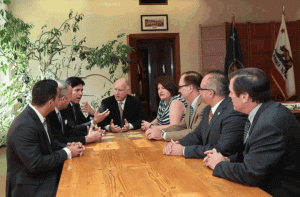 Deal Reached On Film Tax Credits

View Photos
Sacramento, CA — Lawmakers have struck a deal designed to deter film productions from leaving California.
The current lottery system used to distribute film tax credits will be eliminated, and it will transition into a competitive process with the focus on creating and retaining jobs. In addition, the amount of film credits available will increase from the current $100 million annually, to $330 million, starting in fiscal year 2015-16.
Governor Brown says, "This law will make key improvements in our Film and Television Tax Credit Program, and put thousands of Californians to work."
Senate Republican Leader Bob Huff co-sponsored the legislation, and said, "In the last 15 years, film production has dropped nearly 50% in California. In 2013, 21 of the 23 new prime time series were filmed outside of California.  If California is going to get these jobs back, we must compete with other states and nations who are clamoring for that big movie business."
The legislation was also authored by Assembly members Mike Gatto of Los Angeles and Raul Bocanegra of Los Angeles.