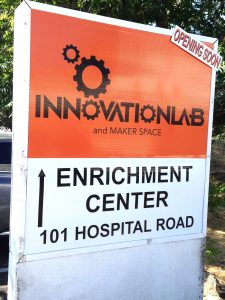 Innovation Lab

View Photos
Sonora, CA — A plan for how the community can use the new Maker Space was released today. Larry Cope, Director of Economic Development, for Tuolumne County Economic Development Authority (TCEDA) blogs about how the new InnovationLab and Maker Space is part of an Innovation Plan.
Cope says "The Innovation plan and the InnovationLab is a tool to attract businesses (with their higher wage jobs) and residents from more urban areas of California." He mentions local investors (both Angel and Venture) are interested in investing in small technology and manufacturing firms who do not have the financial means but are interested in helping the local community grow.
The blog details how Small businesses, Schools and the Community will use the lab to foster innovation. Cope says "As this 'technology and innovation community' grows it provides chances to share ideas, concepts, plans and innovation among members which helps not only those who share but the community as a whole."
In the future a Venture Conference event will be planned to highlight and share Tuolumne County the innovation and technology.
Read the details in Larry Cope's blog "Innovation and Tuolumne County"