Sonora Enforcing Defensible Space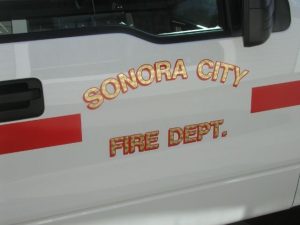 City of Sonora Fire

View Photos
Sonora, CA — The Sonora Fire Department is taking some new proactive steps designed to help protect the community from fire.
City firefighters have started conducting several defensible space checks in Sonora neighborhoods.
"We've done these inspections for years, but only on a complaint basis," says City of Sonora Fire Captain Matt Slusher. "Because of the dry fuels and drought we've experienced in the state, we're going out this year and being proactive, and doing inspections."
The firefighters are giving homeowners tips, and pointing out potential fire hazards. The residents are then given a certain amount of time to make the needed changes.
"Basically, the feedback we've received so far, is that people are very happy to have us out there," adds Captain Slusher. "If the homeowners are able to help us, then we're able to provide a higher level of service in the event of a fire."
Those that refuse to have the legal defensible space requirements could later be subject to a fine.
To see a brochure about creating defensible space, from CAL Fire, click here.