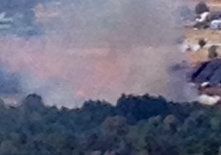 Standard Mill Fire Photo taken by: Sabrina Reese

View Photos
Sonora, CA — Cal Fire reports crews are getting a handle on the log fire at Sierra Pacific Industries (SPI) Standard Mill property off Standard Road in Sonora.
"Crews are making really good progress," says Cal Fire Capt. Mike Spear, "We got into the log decks with help from SPI's heavy equipment.  We were able to break open some of those large log decks, get some water in there and cool the fire down."
Spear adds crews will remain on scene overnight monitoring the situation.  Cal Fire reports the cause of the fire is still under investigation.
Click here for a map of the fire site.