Third Strike For Calaveras Man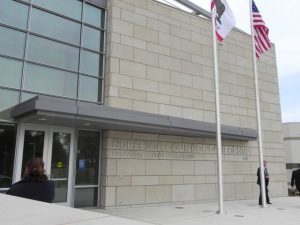 Calaveras County Superior Court

View Photos
San Andreas, CA — A Calaveras County man will spend time in prison after being found guilty of committing crimes against a cohabitant.
Robert Swiggart was convicted of several charges and faces the possibility of 25 years, to life, in prison. His victim is listed in court documents as "Jane Doe." The felony charges that Swiggart was found guilty of include criminal threats, inflicting injury, attempting to extort $5,000, and stalking after a restraining order had been issued. The victim, three Sheriff's Deputies, and three other witnesses testified in the case. Swiggart was also convicted of carrying out two separate burglaries in 1994.
The possibility of a hefty prison sentence is because of the new crimes, combined with the past convictions. It was his third strike. The Probation Department will soon file a report and recommend a sentence.