Could Farm Bill Help Rim Fire Cleanup?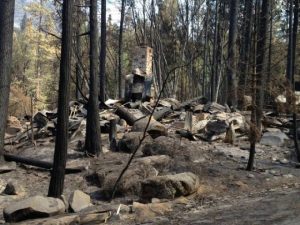 Rim Fire Damage

View Photos
Sonora, CA — Tuolumne County is hoping that some money included in the 2014 Farm Bill can help subsidize the removal of biomass within the burned Rim Fire area.
Contained in the federal Farm Bill is $12.5 million for the Biomass Crop Assistance Program, which subsidizes the harvesting and transporting of biofuels. Typically, the money has gone towards processing corn cobs and stalks to make ethanol. However, the program also mentions that money could go towards removal of biomass from dead or diseased trees. The Supervisors voted to send a letter to Congressman Tom McClintock urging that a specific amount of money from the grant program be set aside for biomass removal on lands impacted by catastrophic wildfires.
The County noted that Pacific Ultra Power plant could receive significant amounts of biomass from the Rim Fire, but there are concerns it will not materialize if extraction and trucking costs make it unaffordable.
The letter was sent with a 5-0 vote. The Supervisors noted that if the biomass is not removed, it will likely either be burned out at the site, or just remain there to rot. The County would like to see it removed and used to produce energy.