Barrows Ending 40-Year Firefighting Career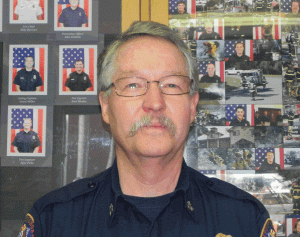 Mike Barrows

View Photos
Sonora, CA — On Friday, Sonora Fire Chief Mike Barrows will call it a career after 40 years in the fire service.
In an interview he reflected on the past, talked about the department's future, and spoke for the first time about the reason he is retiring.
Barrows started in 1971 as a volunteer firefighter with his hometown Big Bear Lake Fire Department. Five years later he made the decision to join that Fire Department full-time. Over the coming years he was promoted to Engineer and later Captain. It was about 16 years later that Barrows and his wife decided to look for a home in an area where they thought would eventually make a good retirement location. They purchased a home in Tuolumne County, but Barrows decided to keep his job with the Big Bear Lake Fire Department. His shifts would last several straight days, and his commute time back to Tuolumne County was eight-hours, one way.
Barrows remembers, "I was working out in the garage at home one night, and my wife had learned from the newspaper that the Fire Chief position had opened up in Sonora. She said, you need to go get that position. So I did, and that was 18 years ago."
Barrows has helped fight several major wildfires across the region, and statewide, over his 40 years. "I've got a tremendous amount of memories," he notes. "I could probably write books."
Most recently he was involved with the response to the 257,000 acre Rim Fire.
When asked what the biggest issue firefighters will face over the coming years in Tuolumne County, he said, "The need to come up with additional water storage."
He added, "If you look at places like San Francisco and L.A., they've got big lakes that they are retaining water from, and they have three years of water storage on hand. Tuolumne County doesn't. How that relates to fire is that if we don't have enough water storage to meet the regular daily domestic demand for the consumers of this county, you also don't have fire flow. If we start running our supplies down, and we break a big fire, you're not going to have the water to suppress a big fire, and that turns into a huge dilemma for everyone."
When it comes to another challenge that the Sonora Fire Department will face in the years to come, he points to new regulations being handed down by the state.
Barrows gave some insight on the topic. "CAL Osha, several years ago, was going to force us to put pop-ups on the fire lines to help rehab people as they go up the fire lines," he said. "So, we would have looked like Mary Poppins out there with an umbrella in one hand, and a fire tool in the other hand. It doesn't work for the fire service, and we got them to drop it, thankfully. But, that type of thing is a constant fight."
When asked about why he is retiring now, Barrows noted it was due to conflicts he had at City Hall. Barrows revealed, "Typically, City Managers like to pick their own department heads. Tim Miller and I don't necessarily see eye-to-eye on things, and I'm sure it would behoove him to have somebody in there that he's handpicked and he'll support. I don't feel that I've had the support from him. They need someone with a little more passion than me at this point. I've been doing this a long time, and I don't want to fight. I just don't need the stress."
I contacted City Administrator Miller to see if he would like to respond to the statement of Barrows. Miller said he would just characterize any disagreements as a, "difference in management styles," but declined to go further.
Barrows has decided to move to Idaho. He says the destination is a very rural, quiet area. I asked him if he would ever consider re-entering the firefighting field. He said he does not have the desire to "call the shots" at this point, but would consider joining on someplace on more of a voluntary, or grant writing type role.
Barrows' final day at the Sonora Fire Station will be Friday. Former CAL Fire Unit Chief Mike Noonan has been hired to be the Interim Chief until a full-time replacement can be found.