Legislature Passes Last Minute Bills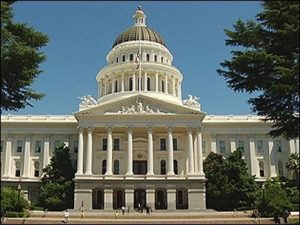 California Statehouse

View Photos
Sacramento, CA — The California legislature wrapped up its session early this morning.

In the closing moments the legislature approved a bill to increase the state's minimum wage to $10. The current $8 minimum wage would rise to $9 in 2014, and $10 in 2016.
AB 60 would allow nearly two million immigrants in California illegally the ability to receive a driver's license. 10 other states have similar programs.
SB 135 would require the California Office of Emergency Services to develop an earthquake early warning system. It would cost approximately $80 million to implement. It would be done in collaboration with the California Seismic Safety Commission, California Institute of Technology, the California Geological Survey, the University of California Berkeley, and the United States Geological Survey.
SB 254 would require mattress manufacturers to implement a coordinated program for the recycling of old mattresses in California.
The legislature also made minor changes to the California Environmental Quality Act, notably approving legislation that helps pave the way for the Sacramento Kings new downtown arena.
The bills require the signature of Governor Jerry Brown.