Road Repairs Stop Traffic In Sonora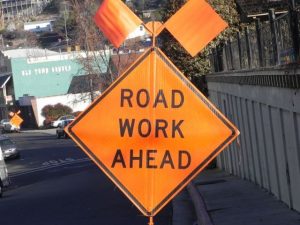 Road Work Ahead

View Photos
Sonora, CA – Motorists be prepared to be delayed if you are traveling in downtown Sonora. Caltrans will begin working right on the main thoroughfare starting this Sunday at 10pm until 6am each day until October 15th. Crews will be making drainage improvements on Washington Street from Stockton Street to the intersection of Snell Road and Elkin Streets.

Caltrans will also close the right and left shoulders on Washington Street from Stockton Street to Wyckoff Street beginning Sunday and running through Friday of next week. The work will be done from 10:00 p.m. until 6:00 a.m.
In October, motorists will face more challenges as Washington Street will be down to one-way traffic from Stockton to Elkin Street. Crews will also be re-paving that stretch of roadway from October 6th to October 15th from 10pm to 6am.
Motorists can expect 15 minute delays during working hours in those areas. The road work is part of the Highway 49 Roadway Rehabilitation Project.
Click here for a map.