Evacuations Confusion Lifted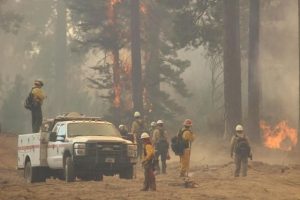 Forest Service Firefighters

View Photos
Tuolumne County, CA — Tuolumne County Sheriff's Officials say they want to clear up some evacuation confusion that they have been hearing from residents in regards to evacuations. They say all evacuation notices have been lifted in Tuolumne County, but some roads remain closed to the public.
Sheriff's Spokesperson Scott Johnson says, "We want everyone to know there are no advisory or evacuation orders in Tuolumne County. However, we do have road closures still in effect and that may be where the confusion is coming from for the public."
The roads that remained closed include Evergreen Road and Old Yosemite Road. Also, Cherry Lake Road is blocked at Highway 120. Highway 120 remains closed from Buck Meadows to 1 ½ miles east of White Wolf. Highway 120 east/Tioga Road remains open from 1 ½ miles east of White Wolf to the Tioga Pass entrance. Highway 120 from Ferretti Road to Buck Meadows remains open for local residents and businesses only. Johnson cautions the public that other roads in the fire area may be close intermittently as needed by fire crews and equipment.
The only area that remains under an evacuation is Highway 120 at the Yosemite National Park boundary west to Buck Meadows. As of Noon Tuesday, all advisory evacuation notices along the Highway 108 Corridor had been lifted. That includes Ponderosa Hills and the south side of Highway 108 from North Tuolumne Road up to Pinecrest. Mariposa County is under no evacuations as well.