High Speed Safety Concerns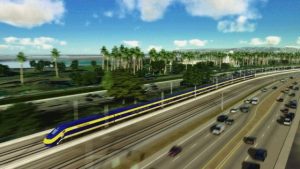 California High Speed Rail Artist Rendering

View Photos
Sacramento, CA — Recent tragic train crashes in Europe has high-speed rail officials trying to reassure the public it is safe. The California High-speed Rail Authority held its regular meeting today and stresses to the public it is a safe. Members say the train that crashed and killed 79 people in Spain last week was not operating on a system like the one planned for California. They also say it was not part of Spain's high-speed rail network. Spanish officials say the train was traveling at nearly twice the 50-mph speed limit when it derailed over a high-risk curve and slammed into a concrete wall.
Board Chairman Dan Richard says, "That segment of track did not have the kind of automated, computer-controlled train control that would have issued an override and would have slowed down the train." He added, "We'll have full train controls on every inch of our system so that kind of accident could not happen."
The Spanish train was carrying 218 passengers. The train's black box has showed the driver was on a cell phone at the time of the wreck. Richard also noted it is against the law for train drivers to use a cell phone while operating a train.