Update: Sonora Woman In Fatal Crash Identified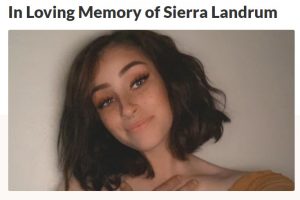 Sierra Landrum

View Photo
Update at 5:20 p.m.:  A GoFundMe page has been set up for 20-year-old Sierra Landrum who was killed when her Jeep Cherokee overturned while exiting Highway 108/49 on the Stockton Road turnoff on Monday night. The crash remains under investigation. The funds will be used for funeral expenses. The page includes pictures of Landrum and this message:
"On March 1, 2021 Chis and Heidi Landrum lost their beautiful 20 year old daughter, Sierra, in a tragic car accident. For those fortunate enough to have known Sierra, you know how deeply we will miss her bright smile and sweet, adventurous soul. Her energy and spirit will be missed each and every day…
Sierra left a mark while here with us, she was a mechanic with a love for cars and shared and equal love for animals. Soft and tough at the same time, Sierra was entirely her own person and impressed nearly everyone she met."
Click here to view the GoFundMe page.
Original post at 8:21 a.m. written by BJ Hansen: Sonora, CA — The Sonora Police Department has released the name of the 20-year-old woman who tragically died in a crash in the area of Highway 108/49 and the Stockton Road turnoff.
The victim is Sierra Landrum of Sonora. The PD reports that she lost control of her 1998 Jeep Cherokee and it overturned. The PD reports that the crash details remain under investigation. No one else was inside the vehicle. It happened at 6:38pm on Monday.