Update: Thursday Power Outages And Some School Delays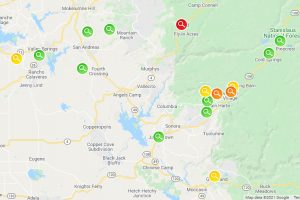 PGE power outages in the Mother Lode 1-28-21 21 130 pm

View Photos
Update at 4:55 p.m.: PG&E is reporting a new outage in the Pinecrest area impacting 210 customers south of Highway 108 in the area of Pinecrest Lake. The utility has not given a cause or repair time. Details on the nearly 10,000 other outages in the Mother Lode are below.
Update at 2:15 p.m.: PG&E is reporting nearly 10,000 customers are without power in the Mother Lode this afternoon.
In Tuolumne County, there are a total of 4,141 customers without lights. The majority are stretching from Camp Earnest to Twain Harte to Long Barn. The outages are on both sides of Highway 108 including the Phoenix Lake-Cedar Ridge area. There are also 90 customers west of Buck Meadows along 120 that have had no power since yesterday. That is the same situation for many in Calaveras County where a total of 5,650 customers have no electricity. The lights went out for 4,086 customers in the Arnold area last night and they were joined by another 1,618 early this morning.
The utility attributes most of the outages to weather conditions creating equipment issues while giving no estimated repair times.
Original post at 6:30 a.m. written by BJ Hansen: Sonora, CA — Some high-country communities are without power this morning due to the storm system.
There are a few thousand customers without power up above Avery. There are also about a thousand spread throughout Confidence, Mi Wuk Village and outside of Twain Harte and around 500 in Cedar Ridge. There are also smaller outages, some being single customers, in areas like Jamestown, Murphys, Pinecrest and Mountain Ranch. PG&E says there is not an estimated restoration time.
There are also school delays and cancelations due to the weather. Click here for more information.