Newsom And Trump Praise FDA's COVID-19 Vaccine Authorization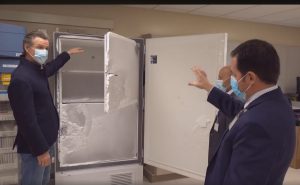 Governor Gavin Newsom At Low Temperature Storage Facility At UC Davis

View Photo
Sacramento, CA — Governor Gavin Newsom was in the midst of touring the spot where some of the initial doses of the COVID-19 vaccine will arrive in California when the FDA last night announced emergency approval of the Pfizer vaccine.
"It is great news for all Californians," he said.
The Governor was visiting an ultra-low temperature storage facility at the UC Davis Medical Center.
"As California faces reduced ICU capacity, we must remain vigilant over the next few weeks," he added. "At the same time, the FDA Emergency Use Authorization of a COVID-19 vaccine is a tremendous step toward safe and equitable vaccine distribution in California."
327,000 initial doses are anticipated to arrive in the state early next week. They will be dispersed to healthcare workers on the frontlines. Distribution to the masses is anticipated around March or April.
President Donald Trump also highly praised the FDA's approval of the vaccine in a brief video address from the Oval Office. He called it a "medical miracle," that a vaccine has been approved in nine months. It is part of what the Trump Administration deemed, "Operation Warp Speed."