Update: Storm Brings Lightning Caused Fires Across Mother Lode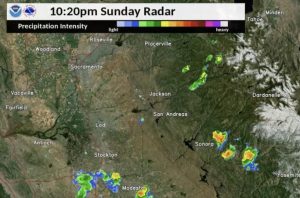 Sunday Evening Storm System

View Photo
Update at 1:15pm: An additional fire has been located near Camp Wolfeboro in the Stanislaus National Forest. The area is outside of Arnold. The Forest Service reports that it is 1/10 of an acre. It is not anticipated to grow in size. A crew will be on scene working to contain it over the next few hours.
Update at 12:20pm: Regarding four potential lightning fires near the Blue Mountain Lookout above Arnold, CAL Fire reports that the fires were spotted overnight. However, air resources have been flying overhead this morning and have not been able to locate any lightning caused fires. Because it is smokey in the area, it is unclear if they are still slightly burning, or extinguished. Fire officials will continue to monitor that area, and other spots, throughout today.
Update at 11:40am: Stanislaus National Forest spokesperson Diana Fredlund reports that the Jordan Fire in the Stanislaus National Forest, near Smith Ridge, is now contained.
Regarding the lightning strikes above Arnold, CAL Fire officials believe there may be up to four small fires near Blue Mountain Lookout, but it is difficult to assess due to the smoke. Officials are investigating and monitoring for fire activity in that area.
Update at 10:40am: In addition to the incidents referenced below, the Stanislaus National Forest has spotted one lightning-caused fire south of Buck Meadows. The small incident is being referred to as the Jordan Fire, and it is in an isolated near Jordan Creek Road near Smith Ridge.
Update at 9:27am: CAL Fire reports that there are now at least two fires north of Arnold near the Blue Mountain Lookout that firefighters are heading over to staff. The sizes of the fires are not immediately clear. There is also a new report of smoke being spotted in the West Point area.
There are no active lightning-caused fires spotted along the Highway 108 corridor, but one was extinguished overnight near Twain Harte. Three fires were also extinguished in the Valley Springs area.
Air resources will be overhead today searching for any additional fire starts. We'll pass along more information as it becomes available.
Original story posted at 6:18am: Sonora, CA — It was a busy overnight for firefighters in the region due to various lightning-caused fires that popped up during a storm system.
CAL Fire reports that three fires were controlled in Valley Springs and another near Twain Harte. Officials are still on the scene of a fifth incident, which is located north of Arnold, reported near the Blue Mountain Lookout. The size of the fire is not immediately clear, according to CAL Fire.
Air resources will be out patrolling later this morning looking for additional lightning-related fires. We'll pass along more information when it becomes available.