Update: California Closing Numerous Indoor Business Activities In All Counties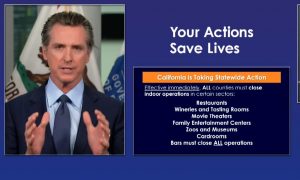 Governor Newsom Announces Additional Indoor Closures

View Photo
Update at 4:40 p.m.: Mother Lode public health officials are providing additional direction following the state's decision to roll back business operations due to surging COVID-19 cases.
Tuolumne County Public Health reiterated Governor Gavin Newsom's direction, closing indoor operations of restaurants along with indoor and outdoor operations of bars. The county is continuing with its stricter local lodging orders, which require enhanced sanitation protocol, including leaving accommodations empty for 24 hours between guest stays ahead of cleaning and maintaining bookings at 50 percent of the total occupancy rate.
Update at 3:36 p.m.:  Mother Lode public health officials are providing additional direction following the state's decision to roll back business operations due to surging COVID-19 cases.
Calaveras County Public Health Officer Dr. Dean Kelaita emphasizes that the latest closure order from Governor Newsom is in effect until further notice and applies as well to local guests, tourists, and other visitors.
"Outdoor operations may be conducted under a tent, canopy, or other sun shelters, but only as long as the sides are not closed and there is sufficient outdoor air movement," Dr. Kelaita notes. "All indoor operations for the businesses on the closure list are prohibited and activities like check-in should be relocated outdoors. The exception is restroom access. Restrooms may be indoors, however, face coverings are required and physical distancing protocols should be enforced."
Kelaita comments, "In our experience, most businesses want to do the right thing, so we start by making sure the business understands the restrictions."
He reiterates that all industry or sector guidance documents that have been issued to date, including all infectious control measures outlined in those guidance documents, including the use of face coverings, which is mandated statewide apply in outdoor settings, and thus must be adhered to.
The state, attempting to control the pandemic infection spread, has developed data metrics that they monitor for each county that tracks local disease transmissions rates, hospitalizations, testing, and other variables. Counties not meeting the data standards on the County Monitoring List receive targeted engagement and technical support from the California Department of Public Health and are required to close certain additional businesses for a specified amount of time.
"Currently, Calaveras is not currently on the monitoring list. However, one metric that we have to keep a close eye on, given we've had a significant increase in cases recently, is what's called the case rate. It's the number of new COVID-19 cases in a given population. We want to stay below 100 new cases per 100,000 population in the last 14 days. To keep us below the state's requirements, people must continue to stay home as much as they can, avoid crowded places, confined spaces, and close contact with people not from your household," Dr. Kelaita advises.
For more details, click here.
Update at 3:20 p.m.: Some Mother Lode government jurisdictions are providing direction to businesses in the wake of the state's decision to hit the dimmer switch on business operations due to surging COVID-19 cases.
Around 3 p.m. the City of Sonora released a bulletin saying that effective immediately, businesses must close indoor operations of restaurants. Bars must close all operations but that outdoor dining is still allowable. The City of Sonora has a temporary outdoor operations application available on its website and is encouraging all restaurants to utilize the temporary outdoor operations permit available online to expand seating capacity under Governor Gavin Newsom's new mandate. Click here for details.
BJ Hansen posted this earlier update.
Original Post at 12:33 p.m.: Sacramento, CA — A list of business sectors must cease indoor operations as part of a new directive announced this afternoon by Governor Gavin Newsom.
Regardless of the county, it is no longer allowed to operate Indoor restaurants, wineries/tasting rooms, movie theaters, zoos, museums and card rooms, according to the Governor. Those types of businesses are still allowed to operate outdoors. Bars, indoors or outdoors, are directed to close.
The announcement comes as California's seven-day average of new COVID-19 cases is up to around 8,200.
There are additional business restrictions for 30 counties on a state monitoring list. Those impacted must also close all indoor fitness centers, places of worship, hair salons/barbershops, personal care and malls. Mother Lode counties, like Tuolumne, Calaveras, Mariposa and Amador are Not on the state's monitoring list, so only the first grouping mentioned applies locally.
The counties on the monitoring list include Colusa, Contra Costa, Fresno, Glenn, Imperial, Kern, Kings, Los Angeles, Madera, Marin, Merced, Monterey, Napa, Orange, Placer, Riverside, Sacramento, San Benito, San Bernardino, San Diego, San Joaquin, Santa Barbara, Solano, Sonoma, Stanislaus, Sutter, Tulare, Yolo, Yuba, and Ventura.