Update: Structure And Vegetation Fire In Jamestown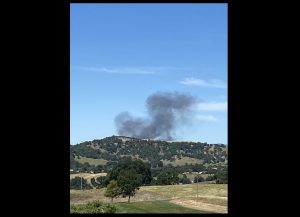 Outbuilding Fire In Jamestown

View Photos
Update at 1:15m p.m.:  Fire crews have knocked down a structure fire where flames spread to some nearby vegetation along Preston Lane near Seco Street in Jamestown. CAL Fire spokesperson Emily Kilgore details that the fire has been put out in the outbuilding, but exactly what type of building it was she did not know. She added that the vegetation fire was contained quickly upon the arrival of firefighters with only a small extension into the nearby grass. No injuries were reported and what sparked the blaze remains under investigation. Crews will remain on scene mopping up for the next couple of hours, according to Kilgore.
The above update was written by Tracey Petersen.
Update at 11:51am: Officials are on the scene of a structure fire in the Jamestown area along Preston Lane near Seco Street. CAL Fire reports that an outbuilding caught on fire and it spread to some nearby vegetation. The vegetation fire was quickly contained, and crews are working to fully extinguish the outbuilding fire. You will notice activity in the area.
Original story posted at 11:40am: Jamestown, CA — There is a structure fire that officials are responding to in the Jamestown area.
It is reportedly near the intersection of Preston Lane and Seco Street. Black smoke is visible in the area.
Error: map could not be loaded - a marker with ID 2140 does not exist. Please contact the site owner.