Now Trending, Thanksgiving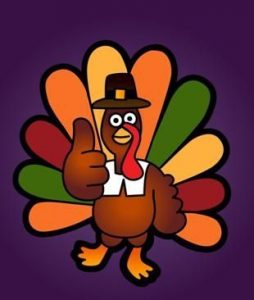 Thanksgiving Turkey

View Photos
As it is across the country, Thanksgiving in the Mother Lode remains the number one holiday for cooking up a storm, spending quality time with those we love, reaching out in some way to help the less fortunate, and getting the jump on winter holiday shopping.
In tandem with the uptick in kitchen activities, it seems reasonable to understand why it is that the Thanksgiving holiday weekend coincides with the greatest number of national and local plumbing disasters. Hopefully, a heads up to all the cooks and kitchen helpers out there will help reduce this year's number of clogged pipes across the Mother Lode.
Cal Fire is also asking us all to be mindful to avoid cooking fire hazards. And Tuolumne County and City of Sonora customers, don't forget to trot out the trash Thursday morning, first thing. Even though it is a holiday, curb-side waste and recycling pick up is running on schedule.
This year, across the nation, the American Farm Bureau Federation estimates the average Thanksgiving Day throw-down feast will cost $49.41 to bring from stove to table. is up 37 cents from last year.
Holy T-Day Trinity
While turkey, stuffing and pie remain the traditional trio of top favorite staples around the country, Californians are more likely to consider cooking up a corn bread stuffing, and go with pumpkin as our primary pie filling than other regions.
Numerous leading recipe web sites confirm that, as a nation, we are now spending a large amount of time web searching to recreate favorite dishes and concoct new ones. Online how-to cooking videos, tapped via tablets and phones, often while cooking, have replaced our moms as the most popular resource for cooking tips. Baby boomers are taking a back seat to hosting the holiday, too, allowing the Millennials and GenExers to step up. The younger generation has embraced "friendsgiving" potluck feasts, held the Wednesday before or Friday following Thanksgiving, in order to have their fun and still make time for giving thanks and quality family time.
In Search Of New Flavors
Google Trends says our sweet tooth has definitely outsized itself this year, as searches for dessert recipes are growing three times faster than searches for turkey recipes. That is, until about three days after Turkey Day; when, every year over the past three years searches for "leftover recipes" has hit an annual high.
Cooking magazine trends this Thanksgiving indicate, among other things, we may experiment with more exotic spice flavorings; stuff our, well, stuffing with sausage; roast more vegetables; or consider a fling with fennel (a relative of parsley) as an ingredient or a side dish. Bruleed pumpkin pie and creamed kale, hugely popular side attractions over the past two years, are still trending strong.  Tofurky, which enjoyed its own heyday (albeit, in 1995) is not, and frankly, we are not surprised.
If you ever considered spatchcocking your bird, along with being trendy, this fairly easy to master method is said to cut cooking time down by two-thirds, make for a tastier turkey, and create more room in the oven. Need to free up more table space — or brainstorm a better way to transport an entire Thanksgiving dinner at once? If so, you may find another trending how to idea to create-your-own Thanksgiving in a bucket (no, not by driving through a KFC) positively ingenious.
Remember, CHP has indicated that law enforcement officers will be out in full force to help keep your holiday weekend travels safe. For a list of activities and events to enjoy, even entertain your friends and family with over the holiday here in the Mother Lode, check out the events calendar and click the dates.