Green Light For Phoenix Lake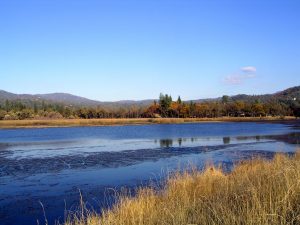 Phoenix Lake

View Photos
Sonora, CA – With $4.5 million in state funding in pocket, Tuolumne Utilities District (TUD) is ready to finance the next two phases of its Phoenix Lake Preservation and Restoration project.
TUD owns the water rights, facilities and portions of the lake, an 88-acre water storage reservoir located approximately three miles east of the City of Sonora. A primary drinking water source for the communities of Sonora, Jamestown, Scenic View and Mono Village, Phoenix Lake's allowable storage capacity of approximately 900 acre-feet (ac‐ft) is operating at a 33% reduced capacity, due to nutrient inputs, sedimentation and invasive aquatic vegetation that also continue to negatively impact its water quality.
Using $1,598,000 in grant money awarded in March 2014, TUD will complete Phase 2 of the project, which covers engineering design, regulatory compliance and permitting. According to TUD officials, technical opportunities, constraints, and input from the public and resource agencies will influence the completion of this phase.
A grant of $3,150,000, awarded just this past Tuesday, will fund Phase 3 of the project to improve water quality and restore storage capacity to both the lake and its watershed. Specifically, the work will provide access to approximately 170 ac-ft of water that currently does not exist as well as build a forebay to remove a majority of sediments transported via Sullivan Creek to the watershed. According to TUD officials, sediment removal is essential to improve water quality, long-term health and storage capacity of the lake.
The abovementioned monies are allocations from two separate regional grants, totaling over $11.5 million, made by California Department of Water Resources (DWR) to Tuolumne-Stanislaus Integrated Regional Water Management Authority, of which TUD is a member, along with six other regional water districts.
For more information on the Phoenix Lake Preservation and Restoration Plan from the District's website, click here.