Local UFC Champ Introduced To Senate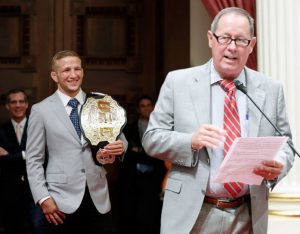 Tom Berryhill and T.J. Dillashaw

View Photos
Sacramento, CA – Local Senator Tom Berryhill recognized T.J. Dillashaw, Ultimate Fighting Championship (UFC) champion and Angels Camp native, on the Senate floor today. As reported earlier Dillashaw Won the UFC bantamweight world champion title on May 24th.
Sen. Berryhill, in recognizing Dillashaw said, "It was a decisive victory – and well deserved. He worked hard and took Barao out fair and square." Berryhill added, "I would love to credit T.J.'s rural roots (he is from the very best Senate District in California) but I think his incredible perseverance, talent and hard work won the day."
Dillashaw trains in Sacramento with "Team Alpha Male," which annually hosts the "Fight for the Kids" Golf Tournament. Berryhill says, "This is a guy that gives back to the community, and that quality absolutely comes from his good solid rural roots." He also noted, "The Senate has been known to spar on occasion, but I think T.J. could show us a thing or two."
The video of the event can be found here.