Better Than Moving: Get More Space with a Basement Remodel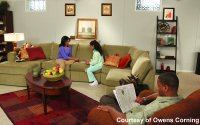 (ARA) – The day you've dreaded has finally arrived: your household is bursting at the seams. You need more space, but you're not keen on the idea of entering the real estate market right now. And eco-conscious consumer that you are, you don't relish the idea of increasing your home's environmental impact with a costly addition.
You're not alone. The bigger is better mentality that defined the 'moving up' trend of the past 20 years seems to be the latest casualty of the real estate downturn. As a result, many homeowners are opting to stay put and increase their living space by remodeling the homes they have. Many are doing so without the cost and eco-impact of building an addition. Instead, they're creating more living space by turning areas like basements, garages and even outdoor patios into usable square footage.
Finishing a basement is one of the most cost-effective remodeling projects, according to Remodeling Magazine's 2007 Cost vs. Value report, with homeowners seeing an average 75 percent return on investment when they sell the home in the first year. The cellar-to-living-space trend can be especially helpful for owners of older homes, many of which have large unfinished basements.
Finishing a basement is a complicated job and generally beyond the scope of most do-it-yourself homeowners. One of the quickest and easiest ways to finish your basement is with a finishing system like the Owens Corning Basement Finishing Systemâ'