Jazz Up Stock Cabinetry with Affordable Upgrades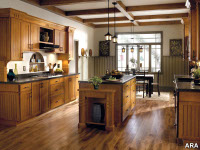 (ARA) – With the price of just about everything going up — from gas to groceries — you might think your budget for cabinetry has to go down. While your cabinetry budget may fall, you won't have to sacrifice style, if you consider jazzing up stock cabinetry with stylish, yet affordable upgrades. Whether you're planning a kitchen for a newly-built home or replacing worn-out cabinets in an older home, cabinetry is one way to create an upscale look with relatively little investment.
'Cabinetry upgrades provide an easy way to create personality in the home,' says Andy Wells, vice president of product design and merchandising for MasterBrand Cabinets. 'For example, many homeowners are gravitating toward individual stock cabinetry pieces combined with upgrades to create a custom look.'
Many builders use stock cabinetry as a standard offering in the base cost of the home. Builders will help you select your style and finish for these cabinets, along with any upgrades you may wish to add on at extra cost. If you're remodeling, you can also find stock cabinetry in kitchen and bath showrooms throughout the country. Wherever you decide to select your cabinets, it helps to know ahead of time what kinds of upgrades are available.
Here are some tips to help you plan for new cabinetry:
Upgrades for an Upscale Look

The heart of any kitchen design starts with the cabinet door style. These days, there are countless styles to choose from to fit the architectural style of your home, from doors with simple lines that complement a variety of design themes, to elaborate doors to suit more eclectic decor. Style also needn't be sacrificed for affordability when it comes to colors. Start with a standard finish such as Aristokraft Cabinetry's rich Autumn, Saddle or Rouge finish. Or upgrade with a reasonably priced glaze to bring out the beauty of the wood. For example, a Java Glaze showcases the raised panel styling of Aristokraft's Radford door style, creating a perfect complement for a traditional, cozy setting, while a Harvest Glaze adds to the relaxed ambiance of today's casual style homes.

Cabinets of varied heights are also popular.

As you plan your kitchen, consider upgrading some or all of the cabinets to go all the way to the ceiling for a grander look. Or, vary the height of the cabinets to complement countertops of varied heights, for a modern appearance and better accessibility.

Upgraded hardware is another affordable option.

Choose cabinet knobs and pulls in a satin nickel finish to accent stainless steel appliances, or use antique copper handles to bring out the beauty of heirloom furniture. Another idea is to install glass-front doors. Some glass designs have the texture of linen, rice paper or even leaded glass. Complete the cabinets with embellishments such as wood overlays or decorative legs to create a furniture-like look.

High Performance Construction Upgrades

In addition to style upgrades, consider upgrading the quality of construction to ensure long-lasting cabinet performance. For example, adding a slam-proof Smart Stop Door Mechanism not only eliminates unnecessary noise, but also ensures longer cabinet life by eliminating the damaging action. It's also available for drawers. Other upgrade options include choosing sturdier grades of wood for shelving and the back and bottom of the cabinets for extra durability.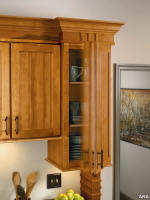 One upgrade that never goes out of style is added organization for your kitchen. In fact, 80 percent of Americans describe their ideal kitchen as 'organized,' according to the Research Institute for Cooking and Kitchen Intelligence (RICKI). An easy option is to install a bonus storage compartment at the end of a cabinet run instead of a decorative panel. For example, a Wall Message Center is only a few inches deep, but it includes a magnetic whiteboard for jotting messages, hooks for house and car keys, a pencil holder and fixed Plexiglas fronted shelves that hold small items secure, while keeping your kitchen looking sleek and organized. It comes in a variety of door styles and finishes to complement your kitchen, so no one has to know you've added a 'secret' storage compartment.
For more information visit www.aristokraft.com.
Courtesy of ARAcontent
---