Sierra Bible Church Avoids Flooding Disaster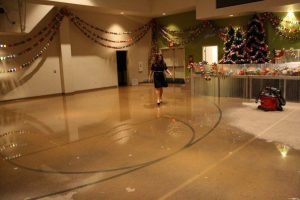 Sierra Bible Church Avoids Flooding Disaster

View Photos
Sonora, CA – Around 50 people came out Sunday afternoon to quickly cleanup flooding at the Sierra Bible Church on Tuolumne Road.
A deluge of water came rushing into the parking lot Sunday afternoon, eventually flooding portions of the Family Life Center and the Promise Land Children's Building. Pastor Mark Levering says the church was in the midst of putting on the final of seven "Christmas Worship Celebrations," and church leaders were forced to stop the production midway through so that electricity could be cutoff to the building.
Many church members soon learned about the situation, and arrived to help in the cleanup. Some learned about the problem via telephone and others from notes posted on social networking websites.
"Members of the church family came and moved tables, equipment, and anything that was moveable to the dry areas of the room," says Pastor Levering. "It was just a mudslide outside, and a bunch of guys and gals began showing up with brooms, shovels, a tractor, and anything you could imagine to move the mud along and clean things out."
A church member that represents Service Master brought in equipment to help with the drying process. Some members that are firefighters came out to hose down the thin layer of mud that couldn't be moved by shovels. After about six hours, things were looking pretty good.
"The theme of our Christmas Celebration this year was 'God With Us,' and I think a segment of our church family had a 'God With Us' experience," adds Levering. "It was kind of a tragedy on the one hand, but it was also a reminder that God shows up and is with us through the midst of those times as well."
It is not known what caused the heavy flooding, but some believe that a private dam may have broken in an area near the church. Church officials are hopeful that the flooding did not do any permanent damage to the carpet or drywall.