Armed Robbery Suspect Sought In Walmart Holdup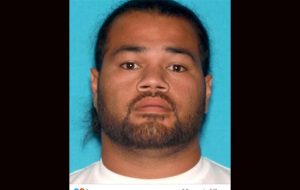 JoeMichael Savaii

View Photo
Sonora, CA — Police are asking for the public's help to capture a Sonora man that armed with a firearm robbed the Walmart store and warn he is considered dangerous.
The mugshot in the image box is 26-year-old JoeMicael Savaii, who police say is a former employee of the store. Investigators say that around 1:30 a.m. on Friday Savaii walked up to the manager on duty and showed him a black handgun in his pocket. Sgt. Curtis Hankins details, "The manager knew him by name. He did threaten the manager to not call the police or to say it was somebody else. In the video surveillance, the officer recognized him from prior contacts also."
Sgt. Hankins recounts that at gunpoint Savaii ordered the manager to take him to the money count area of the store. He then stole an undisclosed amount of money and walked out of the store. Sgt. Hankins adds, "He told the manager to stay in the office for at least ten minutes before he called anybody. When the manager thought the time was up, he made sure it was safe and the guy was gone then called 911."
No one was injured during the incident. Savaii was seen fleeing the scene in a white four-door sedan with an unknown rear plate and no front plate. Sgt. Hankins relays that detectives believe he remains in the area and "maybe hiding out with friends."
Savaii had worked at the store up until two weeks ago, according to Sgt. Hankins, who did not know whether he was fired or quit. Police described him as of Samoan descent standing six feet tall and weighing 260 pounds. He is of muscular build and has long black hair that he often pulls back into a ponytail.  Sgt. Hankins advises the public that if Savaii is spotted not to approach or contact him as he is considered armed and dangerous, instead call 911.