Update: Geyser Spotted At Sonora Shopping Center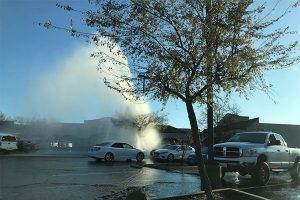 Geyser at the Timbehills Shopping Center along Mono Way
Update at 5:30 p.m.: It remains unclear what caused the driver of the Ford SUV to hit the above-ground section of the sprinkler system unit. Sonora Police report no injuries in the collision.
Update at 5:15 p.m.: Sonora Fire Chief Amiee New tells Clarke Broadcasting that it was a vehicle that hit one of three sprinkler system connections in the parking lot of the Timberhills Shopping Center. She explains, "It knocked the flange off so the water was just spirting just straight into the air. It looked like 'Old Faithful.'
The water has been shut off to the sprinkler system, but that presents another problem, according to Chief New, "Unfortunately that does shut down the sprinkler system to other businesses."
Chief New adds that it could take a couple of days for the sprinkler system unit to be fixed.
Original post at 3:55 p.m.: Sonora, CA — Motorists and patrons of the Timberhills Shopping Center along Mono Way near the Greenley Road intersection got a surprise this afternoon.
A geyser shooting water about a hundred feet into the air, as can be viewed in the image box photo, in front of the Schnoogs Cafe & Espresso and across from the construction site of the new Kentucky Fried Chicken restaurant. Sonora Police report they have officers keeping onlookers away from the scene. There is no word on whether the water is gushing out of a hydrant or possible broken pipe at this time. Also, a Tuolumne Utilities District (TUD) crew has been called to investigate the situation. We will have an update as soon as more information comes into the newsroom.
A special thank you to our community partner Jim Tassanoid for sending in the video.