Update: PG&E Expands Size Of Today's Planned Outage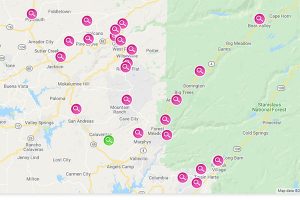 PG&E PSPS outage map for Mother Lode

View Photos
Update at 7:30 p.m.: The numbers of those without lights in the Mother Lode has climbed into the tens of thousands, again. The electricity began shutting off at around 4:15 p.m. in both Tuolumne and Calaveras counties for PG&E's latest power shutoff. Tuolumne County OES spokesperson Jason Terry tells Clarke Broadcasting the simple way to know if your power is going out, stating, "If your power is out, you are under the current PSPS, If your power is on and weather conditions stay the way they're forecasted, they should stay on."
During the evening PG&E brief with local emergency officials, the utility reported that the weather is materialized generally as expected with wind gusts topping out around 40 mph, relays Terry. He says their big concern is with the critically low humidity level of fuels. The "all-clear" time remains the same at 1 a.m. on Wednesday, October 30th.
Extra crews are also being called in to help bring the power back on across the state. PG&E reported to local emergency officials that 300 additional personnel were added on Tuesday to assist in the restoration and there are another 800 on the way. Terry notes, "We're glad to hear of the additional resources coming in. And while I don't know how many are coming specifically to Tuolumne County, generally across California that should speed up restoration times."
Additionally, another 13 helicopters are being added to the already 44 being used in this effort, according to Terry.
Update at 5:55 p.m.: With some still in the dark in the Mother Lode from this past weekend's PG&E power shutoff, another one began around 4:15 p.m. today as electricity was cut to the areas of Twain Harte and Mi-wuk Village and Sugar Pine. PG&E's latest map shows that currently there are 9,675 customers without power in Tuolumne County and 12,067 in Calaveras, but it is unclear how many of those customers are still without lights from this weekend's power cut off. Tuolumne County OES officials say the de-energization is still expected to last until 1 a.m. when PG&E has estimated the ability to give the 'all-clear" for crews to begin inspecting power lines at dawn.  Click here for a list of school closings.
Update at 4:38pm: Clarke Broadcasting is receiving calls from Twain Harte, Mi-Wuk Village and Sugar Pine that customers are again without power.
OES officials say the de-energization is still expected to last until 1 a.m. when PG&E has estimated the ability to give the 'all-clear" for crews to begin inspecting power lines at dawn.
Update at 4:07pm: With some still in the dark from the weekend's power shutoff another one is set to begin within this hour.
There are just 158 people still without power in Tuolumne County. Calaveras still has over 15,000 without power scattered throughout the county. As far as the pending PSPS event tentatively projected to begin in the 4 p.m. hour,
OES officials say the de-energization is still expected to last until 1 a.m. when PG&E has estimated the ability to give the 'all-clear'." To view the current outage situation as of 4 p.m., click here.
Update at 2:43pm: Currently, PG&E data indicates there are still 3,124 Tuolumne County and 16,327 Calaveras County PG&E customer addresses still without power from the Oct. 26 PSPS.
Tuolumne County OES Coordinator Jason Terry shares that the Tuolumne County number represents 91 percent of Tuolumne County PG&E addresses impacted. The percentage is just over 50 percent for Calaveras.
Clarke Broadcasting has posted updated maps with some location marker overlay details that may better outline what areas may be affected by today's PSPS. To view them, click into the image box slideshow.
Update at 2:18pm: PG&E officials are providing details on the current and pending power shutoffs.
According to PG&E spokesperson Brandi Merlo, the widespread dry, offshore wind event today through midday Wednesday will impact about approximately 597,000 customer addresses in the Northern and Southern Sierra, North Bay, Bay Area, Santa Cruz mountains, North Coast and Kern County.
She says that as of 1 p.m., approximately 500,000 customers were without electric service as a result of PSPS and that about 400,000 customers who were originally impacted by the Oct. 26 PSPS event remain without service as part of the pending PSPS.
"The dynamic and changing weather conditions and high fire risk means that some customers who are currently out of power…will remain out throughout the duration of the October 29 event. PG&E continues to analyze this wind event and the extent of shutoffs," Merlo explains.
As of this morning, wind gusts in the 40–55 mph range are still expected across the northern Sierra and elevated terrain of the North Bay, with gusts to 35–40 mph in the East Bay and South Bay elevated terrain. "While these wind predictions are less severe than the previous event, they still reach beyond the threshold that indicates potential for damage and hazards to the electric system," Merlo maintains.
As of noon today, she reports that 573,954 customer addresses, representing 59 percent of those initially affected by the Oct. 26 PSPS had been restored in portions of the following counties: Alameda, Amador, Butte, Calaveras, Colusa, Contra Costa, El Dorado, Fresno, Glenn, Humboldt, Lake, Madera, Marin, Mariposa, Mendocino, Monterey, Napa, Nevada, Placer, San Benito, San Joaquin, San Mateo, Santa Clara, Santa Cruz, Shasta, Sierra, Siskiyou, Solano, Sonoma, Stanislaus, Tehama, Trinity, Tuolumne, Yolo and Yuba.
"The restoration process for this event is complicated by the number of transmission lines included in this safety shutoff. Transmission lines require a longer period…to reenergize to ensure the integrity of the electric grid," she states.
All affected customers in Alpine and Plumas Counties have yet to be restored from the Oct. 26 event. These customers, along with others in portions of additional counties, may not have the opportunity to be restored prior to today's safety shutoff, according to Merlo.
"Customers enrolled in the company's Medical Baseline program who do not verify that they have received these important safety communications will be individually visited by a PG&E employee when possible," she confides. "A primary focus will be given to those customers who rely on electricity for critical life-sustaining equipment."
Update at 1:42pm: Tuolumne County OES officials are sharing the latest PSPS update…
OES Coordinator Jason Terry states, "The last update we have received indicated 75 percent of the county with power restored. Viewing the PG&E Outage map, it seems like the majority of customers still out of power are the areas west of Sonora and in the Groveland area. The good news is that so far these areas are not shown on the latest map for the next event, and if this remains constant, they will not have power shut-off once it is returned."
He notes that his office has received reports from residents in areas of Jamestown and Groveland that have had power restored.
As far as the pending PSPS event tentatively projected to begin around 4 p.m., Terry says the de-energization is still expected to last until 1 a.m. when PG&E has estimated the ability to give the 'all-clear." "The number of customers potentially affected is holding at 9,406 and the next scheduled conference call is at 5:30 p.m.," he offers, indicating that his office will continue to forward Clarke Broadcasting information as it becomes available.
The latest impact map is viewable in the image box.
Commenting on the frustration that many residents throughout the county feel about the multiple PSPS events, Terry acknowledged his office has received some very angry calls. "These events have brought various levels of stress for all of us residents as we deal with these new challenges. We have tried to communicate updates as best we can to mitigate some of this but we understand there is still some frustration with this continuing event," he shares.
"I also want to acknowledge that many of the folks involved in the restoration process locally — both PG&E workers and other agencies — are going through similar complications of finding childcare to be able to go to work, medical concerns for themselves and family members, trying to find/fuel generators, and various other complications that occur when our power is universally out. I hope that folks will consider this as they interact with various agencies during this time, remembering that the person answering the phone or walking the line certainly didn't make the decision of where/when to cut the power."
Tracey Petersen and Tori James are updating this story from the NewsCenter. BJ Hansen posted the previous updates below.
Update at 10:33am: Tuolumne County Office of Emergency Services has released two updated maps showing areas that will likely be impacted by this afternoon's planned power shutoff around 4pm. Click here to view the first area and click here to view the second area.
Update at 10:20am: Calaveras County officials have learned more information about the potential impact of today's PG&E planned outage.
OES Coordinator John Osbourn says areas anticipated to remain with power include Valley Springs, San Andreas, Angels Camp and Copperopolis, but many other areas will be without electricity. Click here to view the latest map for Calaveras County. In total, there will be 16,000 customers.
The planned outage is anticipated to occur at around 4pm and the all clear should come around 1am on Wednesday. 41-percent of Calaveras County customers are still without electricity following the weekend planned outages.
Osbourn adds, "Please continue to persevere and look out for one another; we are hopeful that an end to these events is in sight."
Update at 8:30am: While earlier PG&E had indicated that 2,500 customers could be at risk of losing power in Tuolumne County today, the number has now expanded to 9,406.
Jason Terry with the Tuolumne County Office of Emergency Services shares, "This is about 25-30% of the impact we have received in the past, but of course, still significant. While we do not have a map yet to share, communities that may be affected are Twain Harte, Sonora, Mi Wuk Village, Long Barn, Pinecrest, and a small portion of Tuolumne."
He adds that the communities referenced is not necessarily a full list, and more information will be provided when it becomes available. The outage is expected to begin around four o'clock this afternoon.
Community Resource Centers remain open in Sonora, Twain Harte and Groveland.
Original story posted 7am: Sonora, CA — As of this morning, 75-percent of the customers who lost power over the weekend in Tuolumne County have been restored and 41-percent in Calaveras County.
Crews will continue to work towards restoring the remaining customers today. The next planned outage is anticipated to begin around 4pm today and impact a much smaller customer base. It is estimated that 2,500 will lose power in Tuolumne County and it is unclear how many will lose electricity in Calaveras County. The information is subject change as the weather is further analyzed. Over the weekend, between the two counties, over 60,000 addresses lost power.
The lingering power outages have resulted in numerous school cancellations this morning. Click here to find the latest list.
As you can see in the map, the remaining outages are spread throughout the region, and not impacting a specific area.
Click here to view a recap from Monday.