Update: Mother Lode Schools Plan for PG&E Power Shutoff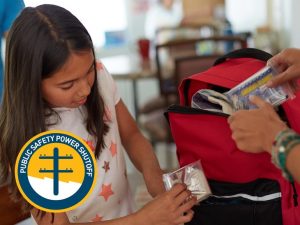 PGE Public Safety Power Shutoff Image

View Photo
Update at 4:30pm: Tuolumne County Schools Superintendent Cathy Parker shares the latest regarding county schools' plans ahead of the impending power shutoff.
"If there is no power tomorrow morning, then we will all cancel school," she states. "If there is power tomorrow morning, we will hold school."
She adds, "If there is a power outage during the day, each site will contact families and determine if they will continue with the day or send students home. The individual school districts will be in communication with their families regarding specific steps."
Parker anticipates that the power outage, if it occurs, will be countywide. "We ask families to check myMotherLode.com, the local radio stations…in the morning as well. If only parts of the county are without power, each site will make announcements about school cancellations. We all will be using the inclement weather calling system that myMotherLode.com has out in place to provide updates."
Parker says she and county school officials will make a decision about Thursday once the schools make it past Wednesday morning.
Original Post at 2:13pm: Sonora, CA — Information is becoming available from local school officials as to their plans.
Calaveras County Schools Superintendent Scott Nanik reports that none of the schools have generators for operation. As far as school closures go, if there is no power Wednesday morning, Bret Harte, Vallecito, and Mark Twain school district schools will be closed, as will Calaveras COE programs. Calaveras Unified school district schools are currently on fall break anyway.
Nanik stresses that if power is on in the morning, schools will operate. If power is lost during the day, schools will operate as scheduled and send students home at normal times, including the Highway 4 extended day programs.
If power is expected off the following day Calaveras County schools will be closed.
We'll provide information about Tuolumne County schools when it becomes available.