Update: Red Flag Warning Issued For Stanislaus National Forest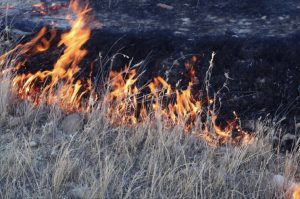 Vegetation Fire

View Photo
The Red Flag Warning that has been issued for the Stanislaus National Forest, will expire at 10 AM this morning.
The Red Flag Warning for the Mother Lode is no longer in effect.
According to the National Weather Service, winds of five to fifteen mph will continue this morning throughout the Stanislaus National Forest, with gusts ranging from twenty to forty mph, especially in canyons and over exposed ridges.
Poor overnight humidity recovery was between fifteen and thirty percent.
These factors continue to produce critical fire weather conditions.
Any fires that do develop, will likely spread rapidly.
A Red Flag Warning means that critical fire weather conditions are either occurring now, or will shortly. A combination of strong winds, low relative humidity, and warm temperatures can contribute to extreme fire behavior.
Cal Fire has these guidelines During Extreme Fire Danger Conditions:
Don't mow or trim dry grass on windy days
Never pull your vehicle over in dry grass
Target shoot only in approved areas, use lead ammunition only, and never at metal
Check and obey burn bans
Ensure campfires are allowed, and if so, be sure to extinguish them completely
Report any suspicious activities to prevent arson, see something – say something