Update: Columbia Air Heads To Silva, Other Mariposa Fires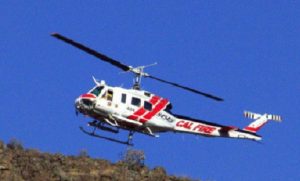 CAL Fire C404 helicopter based in Columbia Air Attack Base

View Photo
Update at 4:16pm: A busy day for fires in Mariposa to be certain. Here is the latest…
CAL Fire Mariposa officials say the Eastman Fire is contained at about 20 to 25 acres. Located southwest of Eastman Lake, its cause remains under investigation as do the Silva and Whitlock fire incidents further described below.
Update at 3:26pm: CAL Fire Mariposa officials say the Eastman Fire southwest of Eastman Lake at last check was 20 to 25 acres in size. No word on containment. It is not threatening any structures. Read on for the other fire incidents Columbia Air Attack worked earlier in the day.
Update at 2:30pm: Columbia Air Attack has been working four fires in Mariposa, according to CAL Fire Mariposa officials.
The Silva Fire, actually two fires, is now reported contained at 11 acres and four acres respectively. The incident is located off Highway 49 near Silva Road and briefly had sheriff's officials responding to residences potentially under threat.
Likewise for the Whitlock Fire, also off Highway 49 near Whitlock Road, which is now reported contained at five acres.
The fourth blaze, the Eastman Fire, located southwest of Eastman Lake near Road 29 and Road 6O7 is still in response mode, officials say. There are no structures under threat.
While all the localized fire activity might be considered suspicious there is no word yet as to causes or whether any may be linked.
Update at 2:13pm: According to the Mariposa Sheriff's Office, potentially affected residents are being notified by deputies about the Silva and Whitlock fires burning locally.
Structures are threatened in both fire areas. The Silva incident is located near Highway 49 South and Silva Road. Sheriff's officials are requesting folks to please avoid the area of Highway South between Ashworth and Darrah roads and be aware of responding emergency traffic. Sheriff's officials also ask motorists to avoid Highway 49 North between West Whitlock and French Camp roads and watch for emergency responders to the Whitlock Fire.
It is possible that there could be more fire activities along Highway 49 although none yet officially confirmed.
Update at 1:53pm: CAL Fire Mariposa officials report more fire activity requiring more responding units.
According to CAL Fire Mariposa, a fire now being called the Whitlock incident is burning off Highway 49. A possible third incident is also in the course of response. Due to all the activity in the dispatch center, no update was momentarily available for the Silva Fire.
Original Post at 1:30pm: Sonora, CA — If you heard planes overhead, Columbia air units are among the resources called to a fire that broke out in Bootjack just south of the town of Mariposa.
According to CAL Fire Mariposa officials, the call came in shortly after 1 p.m. Dubbed the Silva incident since it is located off Highway 49 near Silva Road, it is actually described as two fires, each about two to three acres in size.
Few other details are available although some structures are apparently under threat. We will provide more details as they come into the news center.