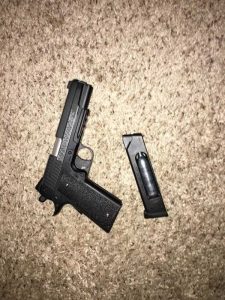 BB gun used in the shooting

View Photos
Sonora, CA — A dispute between Sonora neighbors erupted into a gunfire with one arrest for assault with a deadly weapon.
A caller Wednesday morning relaying that a man was shot in the face by his neighbor sent Tuolumne County Sheriff's deputies racing to a home on Columbia River Drive in Sonora. During the questioning of witnesses and the victim, deputies learned that 62-year-old Ronald Easton, armed with a BB gun, shot at his neighbor twice. While one pellet missed the victim, another just missed one of the male victim's eyes and instead struck him in the forehead. The man suffered a sinus fracture and was treated at Adventist Health Sonora. His condition is unknown at this time.
This is not the first argument between the two men that has ended in Easton using the weapon. Sheriff's spokesperson Sgt. Andrea Benson notes that he admitted to another conflict where he shot the victim with his BB gun, but she did not know where the man was hit or if he suffered any injuries.
Easton was arrested and booked into the Tuolumne County Jail for assault with a deadly weapon. His bail was set at $40,000.