Construction Begins On Sonora Wendy's Restaurant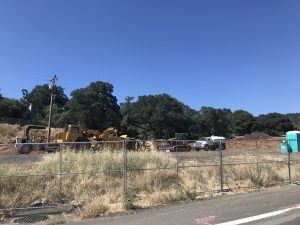 Construction on Wendy's in Sonora

View Photos
Sonora, CA — The dirt is starting to move at the site of the future Wendy's restaurant at the intersection of Fir Drive and Mono Way.
Plans for the 2,568 sq. ft. fast food restaurant were approved by the Tuolumne County Planning Commission this past November.
Providing an update, Quincy Yaley, Community Resources Agency Assistant Director of Development, says, "The Wendy's project received its final building permit a week or two ago and has moved forward with construction on the project site."
She adds, "As part of our team process, the building division will conduct inspections of the building, and the project, at the specific milestones along the way. The building division doesn't have an estimated time of completion of the project, and we'll be monitoring it as it moves forward."
The project developer is Fresno area businessman Sukniit Sangha. Part of the Planning Commission's approval was the requirement that the restaurant add signage to clearly direct traffic through the parking lot and back onto Mono Way. Some clearing of vegetation was also a stipulation to help with sight distances to reduce traffic impacts.
The closest existing Wendy's site to Sonora is in Oakdale.