New Animal Shelter Opens In The Mother Lode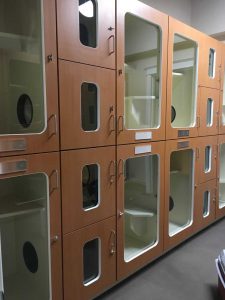 Cat condos in the CHS Barbara Brooks Adoption Center in Angels Camp

View Photos
Angels Camp, CA – It is not your average run-of-the-mill shelter, this one could be mistaken for a doggie and kitty spa and hotel.
The new Calaveras Humane Society's (CHS) shelter located on Highway 49 on the outskirts of Angels Camp is all about providing a comfortable and safe temporary home for surrendered animals as noted by Dee Dee Drake the executive director who states, "Our goal is to have this be a warm, welcoming environment for both the pets and the people who visit."
Named after one of the organization's founders and a major benefactor, the Barbara Brooks Adoption Center is the first of its kind in the area. Boasting that it is a state of the art facility, an excited Drake details, "We have a cage free adoptable cat room, which we call the 'Cat Lounge.' It features a catwalk, which is six feet high for them to strut across and there is an attached 'catio,' which is an outdoor space. We have a large dog run for exercising our dogs."
The non-traditional shelter also has canine "suites" with glass doors and windows that allow the public to get a good look at a possible new family member. There are also spacious get acquainted rooms, a grooming area and office space. Drake describes that the building, which original was a 1920s farm house, then a restaurant, veterinary hospital and finally a chiropractic and vodka distillery, had to be gutted. She adds, "Including the purchase price of the building and property, all the remodeling and equipping of the building, we came in at exactly one-million dollars. It was paid for by bequests, donations and also income from our Arnold thrift store, which will continue its feline adoption room as well."
The shelter will take in surrendered dogs, cats and smaller animals such as rabbits and guinea pigs until they are adopted out, but cannot take in strays, according to Drake, as they can only be turned in to a tax-funded government agency. She explains, "We are a managed admission shelter, which means an appointment is required and sometimes there will be a waiting list because we have a small physical space and we need to be able to manage our population." Drake continues, "Priority will be given to Calaveras County residents, but we will accept animals from elsewhere."
That includes transfers from municipal shelters throughout Northern California to help relieve their overcrowding. The shelter also offers a Feral Feline Program, spay/neuter vouchers, veterinary assistance for low-income seniors, and free adoptions to U.S. veterans. The cost to adopt a pet range from $35 for a cat, a kitten $50, dog $75 and a puppy is $90. The shelter will be open Wednesday through Sunday from 11 a.m. to 5 p.m., each day. For more information click here.
In reaction to the new adoption center, Drake shares, "I can't think of a better way to celebrate our first 40 years than by opening this shelter for the people and pets of our community. Our new home will allow us to help so many, humans and animals alike, to find the happy endings they deserve."