Attendance Up At Yosemite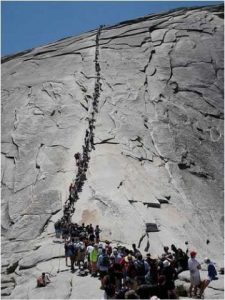 Half Dome Cables

View Photos
Yosemite, CA – Despite the slow economy, more people are visiting Yosemite National Park.
Yosemite has not seen 4 million visitors in a year since 1996, and it looks like the park will come very close in 2010. Through November, 3,837,304 visitors had come through the park gates. Park Ranger Scott Gediman estimates that typically December has around 100-115K visitors, which would put the park just short of the 4 million mark. During 2009, Yosemite had 3,866,970 visitors. The number has been gradually increasing over recent years, after dipping down to 3.3 million in 2006.
Gediman feels that the down economy in the U.S. may actually be helping the park. He suspects that more Californians are traveling throughout the state and staying close to home for their family vacation. At the same time, the amount of overseas visitors remains strong. He also credits the recent Ken Burns series on PBS showcasing National Parks for sparking new interest in Yosemite.