Sugar Pine Trail Construction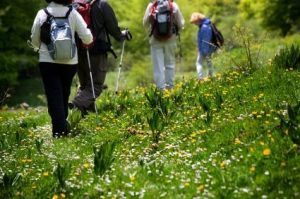 Outdoor hiking

View Photos
Twain Harte, CA — A contract has been awarded to construct the initial phase of a trail that will eventually travel 25.8 miles through Tuolumne County.
The Sugar Pine Trail will follow the historic Sugar Pine Railroad Grade. It will begin at Ralph's Station near the community of Tuolumne, travel north through Twain Harte, and end in Strawberry. Tuolumne County received a $250,000 grant through the federal American Recovery and Reinvestment Act (ARRA) to construct phase 1A that will run from East Avenue in Twain Harte to Gurney Station Road. This phase is one mile long. Phase 1A is the only stretch that is "shovel ready" and does not require "right of way" acquisitions.
ARRA funding that is not utilized will be returned to Washington, DC. District Three Supervisor Teri Murrison indicated she would like the county to explore the idea of using excess money to surface flat portions of the trail so that it can more easily be used by handicapped residents and those that require walkers.
The Board of Supervisors voted 5-0 to accept the bid from Petersen Excavation.