Tioga Pass Opening For Limited Sierra Crossings This Weekend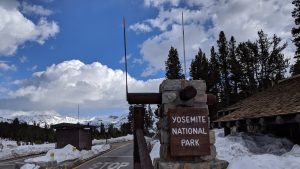 Yosemite National Park

View Photo
Yosemite National Park, CA — While snow removal and seasonal road repairs continue, Yosemite rangers say extremely limited Highway 120 East/Tioga Road will be available beginning Friday.
In the wake of late season storms, crews are still busily at work on the seasonal road through Yosemite National Park, which is typically open from late spring to early fall. However, those who want to cross the Sierra using Tioga Road will be happy to know that beginning Friday, it will now temporarily be open to all vehicles, including bicycles, for two hours daily. The times are from 10 to 11 a.m. and from 3 to 4 p.m. Tioga Road will be open to entry at Tioga Pass and five miles east of Crane Flat
According to Yosemite National Park officials, no one can park on Tioga Road and there is currently no day-use recreation permitted. In addition, there is no visitor parking available at either end of the road closure. Restroom facilities will be available five miles east of Crane Flat Junction and at Tioga Pass.
It is also important to note that there are currently no visitor services available along Tioga Road and Tuolumne Meadows Visitor Center, Wilderness Center, and the Tuolumne Meadows Campground remain closed. Opening dates for the 2019 season still need to be determined.
Prepare For No Visitor Services Access
Rangers emphasize that visitors should advance plan their trips over Tioga Road, prepare for the restricted access, keep in mind there is no access to visitor services. The road will remain closed outside of the limited crossing times, which will allow for continued road crew work.
With regard to recreaters, cyclists traveling over Tioga Road will need to be prepared to cross over the full length of Tioga Road during daylight hours. Tioga Road is not open for overnight camping.
Backpackers planning High Sierra trips can plan for drop off and pick up at trailheads along Tioga Road. All backpackers will need to pick up their wilderness permits in advance and have a bear canister. Rangers strongly recommended that all backpackers be aware of the timing that the road is open and closed, so they can plan trip logistics accordingly. Any backpacker who misses the road open period will need to be prepared to spend an additional night in the wilderness. All wilderness regulations remain in effect.
Motorists should drive with caution and be aware of possible hazards in the roadway, including rocks, debris, and water. Tioga Road may still be impacted by incoming storm activity, including snow and icy driving conditions, over the next several weeks, which means it may completely close altogether due to weather and unsafe driving conditions at any time.