Tuolumne County Youth Recreation Program Creates Budget Debate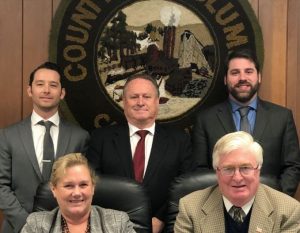 Tuolumne County Supervisors

View Photo
Sonora, CA — The Tuolumne County Supervisors approved a preliminary budget for the fiscal year that begins on July 1st, but the main debate was over the fate of a specific summer recreation, daycare-type, program.
Tuolumne County has been facing a roughly $3.7-million shortfall, and we reported earlier that the board of supervisors will hold meetings over the coming months to restructure county government before approving a final budget in late September, when many difficult cuts will need to be made. The preliminary budget approved today essentially covers the next three months, and includes a variety of short-term cost cutting moves.
Tuolumne County General Services Director Daniel Richardson alerted the supervisors that a summer recreation program that takes in children during parent work hours, serving as a daycare, is currently without a home.  Typically the county rents part of an elementary school to operate it, but there was no availability this year. Sonora High School is currently the only other option, but instead of spending the traditional $1,500 in rent over the summer, the cost would be closer to $14,000. Richardson noted that they had planned to start the daycare program this week, and it has 140 kids on the wait list. It takes in children between the ages of 6-14.
It ended up being the issue of most contention during the board discussion.
Board chair Karl Rodefer, and many of the fellow supervisors, at first indicated that this was simply one of the repercussions of challenging budget times, as there is just no additional funding available.
Supervisor Anaiah Kirk said he was taken by surprise, and felt that the move would be pulling the rug out beneath the parents that rely on it. Supervisor Ryan Campbell agreed, and argued that the county should find the additional revenue somewhere.
Kirk indicated he would be open to cutting the program a year from now, but too many parents had likely already based this summer around it.
After a back and forth debate, in the end, its fate remains uncertain. Supervisor Sherri Brennan made a motion to pass the budget, with the caveat that county staff continue to search for outside options to house the program, but not allocate $14,000 from reserves. The fellow supervisors agreed to the motion. Supervisor Campbell, though, emphasized that he would only support it if all other county departments are held to the same strict budgetary standards.
The tentative General Fund budget is estimated to be around $78.1-million.
Also of note, the supervisors agreed to put off any decisions about furloughing workers until the September final budget meeting.