Columbia Man Charged With Robbery In Dispute Over Motorcycle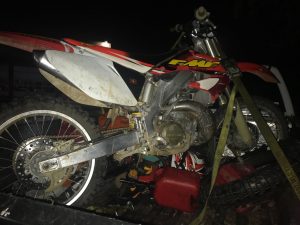 Motorcycle In Dispute

View Photos
Sonora, CA — A Columbia man thought that an acquaintance had stolen his motorcycle, so he tracked him down in Sonora.
The incident happened last night at 7:30 in the Safeway parking lot. The Sonora PD reports that 25-year-old Alex Kirkbride, along with an unidentified other man, approached the acquaintance, and Kirkbride allegedly threatened to shoot him with a gun if he did not give him a chained up off road motorcycle in his truck. Kirkbride claimed the bike was stolen from him. Out of fear, the PD reports the victim gave Kirkbride the vehicle. However, the victim later spotted him on the bike near Walmart and called police.
The PD responded and officers, "confirmed the motorcycle did belong to the victim and was not the same motorcycle that Kirkbride claimed was his."
Kirkbride was arrested on charges of robbery and making criminal threats. The PD adds that the other man with Kirkbride at the time of the theft was threatened to be shot if he didn't give him a ride to find the victim.