$3.3 Million Project Underway On Hwy 108 Hot Spot Near Jamestown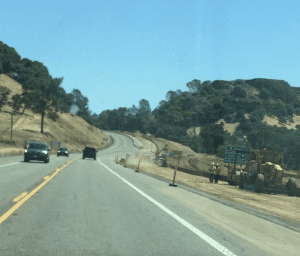 Hwy 108 signalization at Yosemite Junction

View Photos
Sonora, CA – Heavy Highway 108 construction in full swing at Yosemite Junction is part of a fast-tracking public safety project in that travelers' hot spot bent on reducing broadside collisions.
A host of heavy equipment and configuration of K-rails now in place, marks the third or so week of activity, according to Caltrans District 10 spokesperson Warren Alford. "The scoop right now is that they are scooping up a lot of dirt, creating the subgrade for paving at that location to create the intersection," he notes.
Plans include a turn lane and signal. "It's designed to get a lot of vehicles off the main line…folks who are traveling eastbound on Highway 108 will have a more seamless approach through that intersection, and all those people who are turning off onto Highway 120 will have a safe area out of the active traffic lane," he explains.
He says Caltrans anticipates the $3.3 million project will complete by the end of August, possibly sooner or by summer's end, depending on the availability of materials or development of unexpected issues. "We are expecting to be paving at the end of July, so folks are going to see a lot of changes in the next couple of weeks," Alford shares.
Anticipate A Dusty Passage For Awhile Yet
Motorists should expect to see dirt kicking up through the end of this week as crews finalize the subgrade, which is building the road that will lie underneath the pavement. Following that will be two weeks of excavating, trenching, and pipe work to create a drainage system, ahead of the electrical work and paving.
Besides creating a much safer passage for Tuolumne County residents and those traveling to Yosemite or the high country, Alford maintains that traffic flow will be much more efficient. "It is an innovative 'high-T' intersection, so folks traveling westbound will mostly encounter a green light and those turning on 120 will have a controlled stop — and pedestrians and cyclists who need to cross the road will able to activate a signal for a safe crossing," he explains.
As it is construction season on all the Mother Lode highways, Alford notes, "We have a lot of crews out. As highway work is one of the most dangerous occupations, and we want our employees to get safely home to their families every night, if people can be 'work zone alert' this time of year, we certainly appreciate it."
To view photos of current activities in the junction area, click into the image box slideshow.