Tuolumne County Hoping To Restructure Fire Services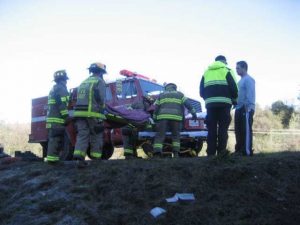 Firefighters respond to accident

View Photo
Sonora, CA — Citing that expenditures are outpacing revenues, the Tuolumne County Supervisors are looking at the idea of creating a larger county wide fire department, by merging with the various smaller independent districts.
It was the focus of a special meeting last night when the board reviewed the findings of a study compiled by the outside firm the Matrix Group.
The study notes that over the recent years there has been a notable decline in the number of volunteer firefighters, the cost to repair aging equipment is spiking each year and operating expenditures have been increasing by about 4.3-percent annually.
The Tuolumne County Fire Department, alone, is projecting a $500,000 shortfall in the upcoming budget. One of the main recommendations was to expand the Tuolumne County Fire Department so that it takes over the various smaller districts in the county. It would also likely include a reduced partnership with CAL Fire, but that agency would still have a presence in the county with dispatch, its own stations and the Columbia Air Attack Base.
The Sonora Fire Department, and Me-Wuk Indians Rancheria Fire Department, would maintain their independent operations.
If this option is selected, it would consolidate many of the fire services, but would still require increased revenue over the coming years, as fires are becoming larger and more intense.
Deputy County Administrator Maureen Frank told the board, "There is no silver bullet out there, and it is something that we as a community need to figure out."
New revenue streams could include some form of a fire tax, or an increase in the Transient Occupancy Tax.
District One Supervisor Sherri Brennan stated, "We need the chiefs (of various districts) to come together. They know what the trends are and where we are headed. I really think that it is going to be a mix. But we need their experience and their expertise. And then, we are going to have to have some very difficult conversations about funding streams. I hope the public is listening."
Board Chair Karl Rodefer stated that the county needs realistic milestones, "I'll be happy if we can get one, two or three fire districts to join county fire, and then maybe we'll get more and more (after that). I don't think we'll be able to go out and get every single one of these fire districts and get their board, or people, to approve dissolution and integration into county fire."
Rodefer added, "The independent district boards could be the stumbling block."
Supervisor John Gray stated that he has heard people complain that there are "too many fire empires in the county," and hopes that everyone can come together and find the best solution.
The supervisors directed staff to meet with the various fire chiefs to discuss the issue further, and report back in the near future with possible recommendations, and solutions.