Update: Flood Warning Issued For The Merced River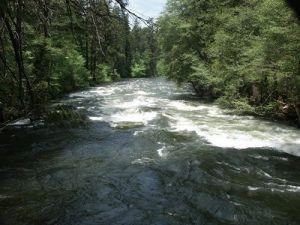 Merced River

View Photo
The National Weather Service has issued a Flood Warning for the Merced River in Yosemite National Park, effective now until further notice.
The Merced River is forecast to fluctuate this morning between nine-and-a-half to ten feet.
Flood Stage itself is 10.0 feet.
Increased snow melt due to warming temperatures is producing rises along the Merced River and other rivers and streams throughout the Sierra Nevada.
The Flood Warning is based on present and forecasted meteorological and hydrologic conditions at the time of issuance.
Here are the Merced River impact levels in Yosemite National Park:
Near 9.0 feet: Chapel Meadow (south side of river) and Cooks Meadow (north side of river) begins to experience overflow.
Near 9.5 feet: Portion of Lower Pines Campground becomes flooded. Limited site-specific evacuations begin at Housekeeping Camp located along the south-facing bank of the Merced River (Upstream from Sentinel Bridge and downstream from Stoneman Bridge).
Near 10.0 feet: Western portion of North Pines Campground located at the east end of Yosemite Valley between the confluence of the Merced River and Tenaya Creek begins to flood. Water rises to the base of the swinging bridge downstream from Chapel Meadow.
All those affected by the river conditions should remain alert for rapid changes and for possible forecast revisions.
In all locations of the Sierra Nevada, persons living near rivers and streams, in addition to hikers and campers, should closely monitor water levels during the next few days and be ready to move to a place of safety if the threat of flooding becomes imminent.
Keep in mind that rivers pose dangerous, life threatening hazards at this time of year due to their swift currents and very cold water temperatures. Fifteen minutes or less exposure to the icy cold waters of a river can lead to hypothermia. Strong currents can carry even an experienced swimmer into dangerous parts of the river.
Don`t become the next drowning casualty or the victim of a water rescue!
The next statement will be issued by the National Weather Service at 9 AM Friday, June 14.