Yosemite National Park River Flood Warning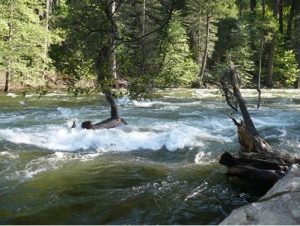 Merced River

View Photos
The National Weather Service has issued a River Flood Warning for the Merced River in Yosemite National Park.
Warm temperatures and melting snow are causing the Merced River to flood at Pohono bridge.
As of Monday, the river was over 10 feet high. This means that minor flooding is occuring at Lower Pines campground, North Pines campground, Chapel Meadow and Cooks Meadow.
The river is expected to remain at flood stage, 10 feet high, on Tuesday.
The river is now closed to all rafters and other types of flotation.
Residents, campers and hikers should closely monitor water levels along the upper Merced River and heed the advice of Park officials when evacuations are necessary.
Written by mark@mlode.com