Sonora's US Capitol Christmas Tree Celebration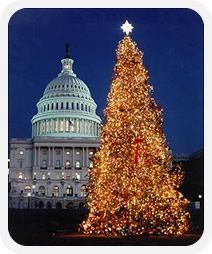 U.S Capitol Christmas Tree

View Photos
Maria Benech, US Capitol Christmas Tree Coordinator, was Friday's "Newsmaker of the Day".
Early tomorrow (Saturday) the tree will be cut down in the Stanislaus National Forest.
It will be loaded onto a truck and will be driven down Washington street, with a full community escort, from Restano Way to Stockton Street. At Stockton Street, the truck will turn left and continue to the Motherlode Fairgrounds.
The timing of the "parade" should be at 3 PM.
Free events will take place at the Motherlode Fairgrounds from 10 AM through 7 PM. The public will find plenty of arts and crafts, music, food and over sixty exhibits. The public is asked to bring cans of food for a "Pay It Forward" food drive.
After Saturday the tree will be driven to various locations throughout California, before being driven across the USA, to Washington D.C.
On December 6th, House Speaker John Boehner will light the "people's tree" in front of the US Capitol building.
The "Newsmaker of the Day" is heard each weekday morning on AM 1450 KVML at 6:47, 7:47 and 8:47am.
Written by mark@mlode.com